PROJECT:
ITP was tasked to manage Toyota's Floor Mat Tag program for their vehicles. ITP works with multiple vendors to provide floor mat tags to the several factories for installation on drivers side floor mat. ITP manages the printing, inventory, shipping, delivery, invoicing, and communication with various Toyota vendors to ensure on-time delivery of floor mat tags.
SERVICES
Printing, Distribute just in time delivery to multiple vendors, Provide turn-key operations for client, Maintain good client relations, Inventory Management
CLIENT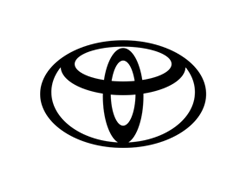 Satisfaction, right under your feet.
ITP's goal is to process incoming orders within 1 business day and provide order confirmation to clients. We developed an online order form for clients to send over orders with a requested minimum lead time of 10 business days. We work with vendors to get 3 month forecasts for projected inventory needed to make sure there is enough inventory availability while not carrying excess inventory (Inventory Management).
RESULTS:
We have successfully managed the turn-key TFMT program for Toyota for several years.  We maintain good communication with multiple vendors, processing multiple on-time monthly orders, managing all printing, shipping, invoicing, and client relations. Complete project management provided for a nationwide project. Let ITP handle your large or small printing needs!